Prof. Laura Lea Sacerdote
Professor
SSD: MAT/06 - probability and statistics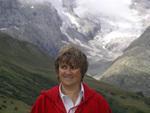 Contacts
+39 011 6702919
+39 011 6702878
Dipartimento di Matematica
Via C. Alberto 10
10123 Torino
At
Department of Mathematics "Giuseppe Peano"
Dipartimento di Matematica "Giuseppe Peano"
Corso di Laurea in Matematica
Corso di Laurea in Matematica per la Finanza e l'Assicurazione
Laurea Magistrale (M.Sc.) in Stochastics and Data Science
Laurea magistrale in Matematica
Laurea Magistrale in Informatica
Curriculum vitae
Curriculum Vitae (0.5 MB)
Research topics
Temi di ricerche presenti e passate in Probabilità e Statistica:
Equazioni differenziali stocastiche, eventualmente con limiti sule barriere;
Approssimazioni diffusive di processi Markoviani multivariati e dei rispetti tempi di I passaggio;
Trasformazioni spazio-temporali tra processi di diffusione;
Sviluppo di metodi statistci per riconoscere dipendenze ra processi di punto;
Utilizzo delle copule per descrivere proprietà di dipendenza in reti;
Metodi numerici per la soluzione di equazioni differenziali stocastiche e i rispettivi funzionali(funzioni di sopravvivanza, tempi di I passaggio...);
Tempi di I passaggio: problema diretto e inverso( unidimensionale e bidimensionale; singola barriera o striscia);
Stime dei parameti diprocessi di diffusione costretti da bariere;
Processi di diramazione, rispettivi limiti continui e relative estensioni frazionarie;
Modelli neuronali e modelli di reti nervose;
Misure di informazione e rispettivi stimatori.
Study of Stochastic Differential Equations eventually constrained by boundaries;
Diffusion approximations of Multivariate Markov processes and of their first Passage times;
Space time transformations between diffusion processes ;
Development of statistical method to detect dependencies between point processes;
Use of the copulas to describe dependencies properties of networks;
Numerical methods for the solution of stochastic differential equations and of the study of their functional (survival times, first passage times,…);
Direct and inverse first passage time (one-dimensional or two dimensional; single boundary or exit from a strip);
Estimation problem for the parameters of diffusion processes constrained by boundaries;
Branching processes, their continuous limits and their fractional extensions;
Neuronal models and neural network models;
Information measures and their estimators.
Research groups
Research projects
Office hours
Please write an e-mail to get an appointment.