Dr. Elena Issoglio
(RTDb) Assistant Professor
SSD: MAT/06 - probability and statistics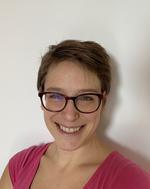 Contacts
At
Department of Mathematics "Giuseppe Peano"
Dipartimento di Matematica "Giuseppe Peano"
Corso di Laurea in Matematica
Corso di Laurea in Matematica per la Finanza e l'Assicurazione
Laurea Magistrale (M.Sc.) in Stochastics and Data Science
Laurea magistrale in Matematica
Selected publications
Issoglio E, Chamorro D (2022)
Blow‐up regions for a class of fractional evolution equations with smoothed nonlinearities.
https://iris.unito.it/handle/2318/1870930
Issoglio E, Smith P, Voss J (2021)
On the estimation of entropy in the FastICA algorithm.
https://iris.unito.it/handle/2318/1769336
Issoglio E, Jing S (2020)
Forward–backward SDEs with distributional coefficients.
https://iris.unito.it/handle/2318/1769330
Issoglio E, Russo F (2020)
A Feynman-Kac result via Markov BSDEs with generalised drivers.
https://iris.unito.it/handle/2318/1769340
Garra R, Issoglio E, Taverna G (2020)
Fractional Brownian motions ruled by nonlinear equations.
https://iris.unito.it/handle/2318/1769325
Issoglio E (2019)
A non-linear parabolic PDE with a distributional coefficient and its applications to stochastic analysis.
https://iris.unito.it/handle/2318/1769315
Flandoli F, Issoglio E, Russo F (2017)
Multidimensional stochastic differential equations with distributional drift.
https://iris.unito.it/handle/2318/1769318
Issoglio E, Zähle M (2015)
Regularity of the solutions to spdes in metric measure spaces.
https://iris.unito.it/handle/2318/1769334
Hinz M, Issoglio E, Zaehle M (2014)
Elementary pathwise methods for nonlinear parabolic and transport type SPDE with fractal noise.
https://iris.unito.it/handle/2318/1769311
Issoglio E, Riedle M (2014)
Cylindrical fractional Brownian motion in Banach spaces.
https://iris.unito.it/handle/2318/1769333
Issoglio E (2013)
Transport Equations with fractal Noise - Existence, Uniqueness and Regularity of the Solution.
https://iris.unito.it/handle/2318/1769327
E Venturino, M Isaia, F Bona, E Issoglio, V Triolo, G Badino (2006)
Modelling the spiders ballooning effect on the vineyard ecology.
https://iris.unito.it/handle/2318/40745
Research topics
My main research interests lie in the field of stochastic analysis with strong links to the theory of PDEs.
In particular I study:
- SPDEs with pathwise methods;
- SDEs and forward-backward SDEs with distributional coefficients;
- Numerical methods for singular SDEs and PDEs;
- Linear and nonlinear PDEs with singular (distributional) coefficients;
- SDEs in Banach spaces.
I recently got interested in applications of stochastic analysis and stochastic control to power systems in the realm of Energy. I am also interested in dimension reduction techniques applied to climate data and machine learning and artificial intelligence.
Research groups
Academic bodies
Office hours
send me an email to set up a meeting